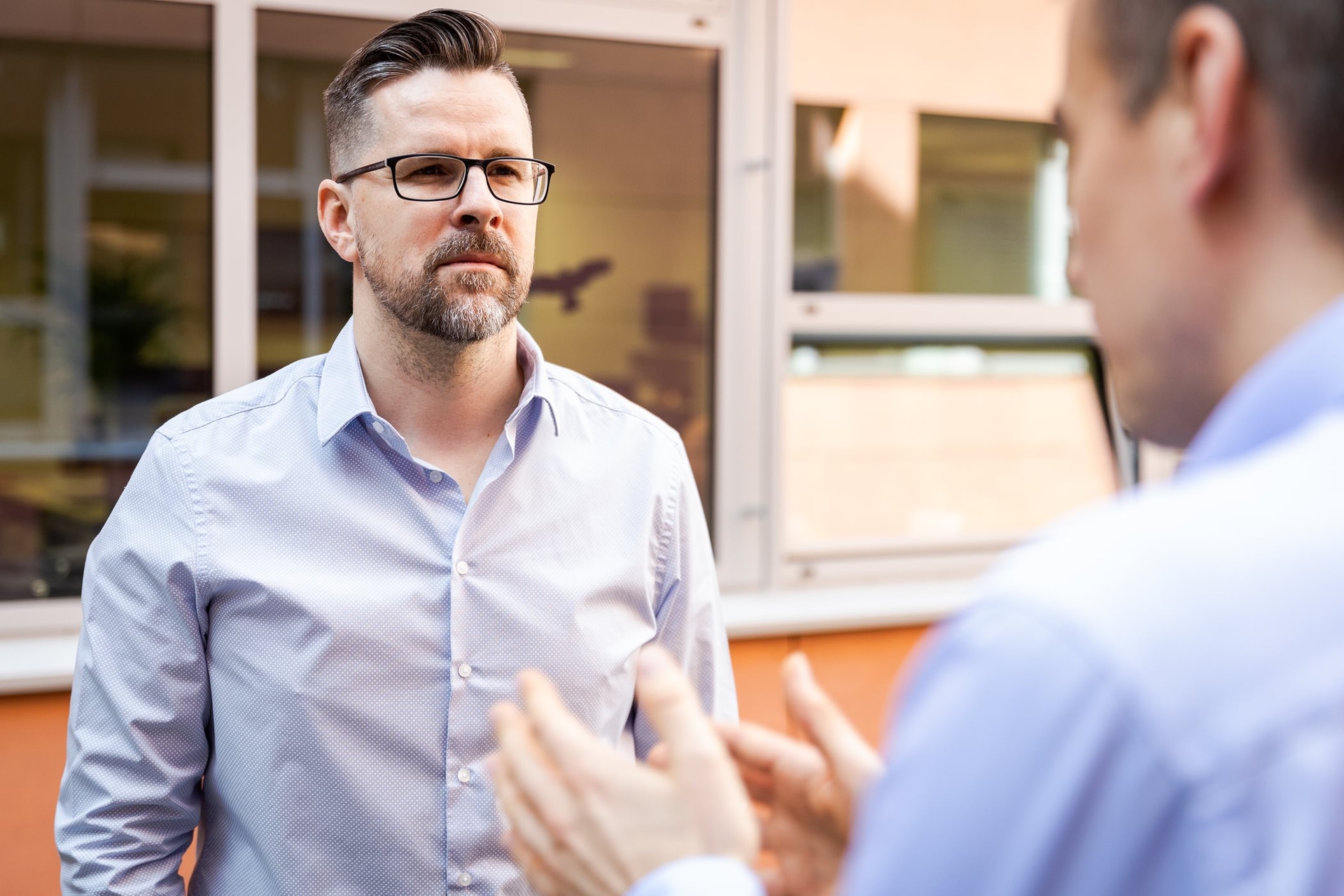 We support people
in business development,
that can change the world
"I believe that entrepreneurship is one of the most powerful tools we have to change the world for the better. When people find meaning in their work, they are successful and happy at the same time."
Petr Chládek
JIC Director
About us
Our vision is an open innovation ecosystem that is home to globally successful entrepreneurs and inspires the world.
We work for the region
By supporting innovation and entrepreneurship, we are making South Moravia a great place to live.
20 years, 1500+ supported companies
We build on top experts and extensive experience.
From launch to the stars
We support innovative entrepreneurship. From idea to global market.
Selected clients who write the history of JIC
We started as a student project in JIC, which provided us with valuable know-how for starting a business. Today, we support promising technology projects and invest in startups ourselves.
Václav Muchna
CEO Y Soft
2004
Václav Muchna knocked on the door of the only one year old JIC. Back then, as a student, he came up with the idea for a print management system for companies. Today, Y Soft employs hundreds of people and operates on several continents.
JIC has guided and supported us on our journey from an academic idea to a small startup team in one office to a global technology company with customers in 45 countries. I encourage every entrepreneur to explore the opportunities that JIC offers.
Jiří Tobola
founder ex-CEO
2007
Flowmon Networks grew out of a university project and had its first offices at JIC. The sale of the company in 2021 brought additional capital and experience to South Moravia. Jura Tobola is passing this on to other entrepreneurs as our senior consultant.
JIC is for me the center of the South Moravian startup community. If you want to start a business, start at JIC.
Oliver Dlouhý
CEO Kiwi.com
2010
The international StarCube accelerator has supported 62 startups that have received investments worth more than 122 million crowns. Among them was Oliver Dlouhy's inconspicuous project called Skypicker.cz. He decided to make buying airline tickets more accessible and easier. His company is now known around the world as Kiwi.com.
JIC opened the way to business and supported us in virtually all aspects from creating a business plan to setting up the accounting. It has helped us build a stable company whose technology is saving lives at home and abroad.
Zbyněk Poulíček
CEO Gina software
2010
GINA's early days were marked by the catastrophic earthquake in Haiti in 2010. Zbyněk Poulíček, together with Boris Procházka and Petra Cerna, developed software that would help connect emergency and security forces.
I am really grateful for the support we have received from JIC in the form of coaching and mentoring. The way of cooperation and the speed of implementation of the outputs of this project exceeded my expectations.
Petr Kapoun
Managing Director S.A.B. Aerospace s. r. o.
2013
We have launched the JIC PLATINN programme. We wanted to support not only startups, but also established companies looking for a new impetus. We were inspired by the Swiss model and the methodology is now being used by other innovation agencies across the country.
In 2015, we decided to create a new corporate identity. Thanks to JIC's quality networking network, we established a top-notch cooperation with an expert in the field and together created a timeless corporate image that persists to this day.
Michal Hrabí
former CEO Phonexia
2015
The roots of Brno's success in the field of computer speech analysis date back to 2006. A group of scientists from the Faculty of Information Technology at the VUT developed a phoneme recognizer. With JIC at its back, the scientific project grew into the company Phonexia.
Acceptance into the JIC has given us a boost. Before, we used to meet in cafes and at home with our computers, but the daily commute to the coworking space forced us to start working on the idea fully and systematically.
Jan Labohý
Co-owner of World from Space
2018
We brought space to Brno. ESA BIC aims to promote the use of space technologies in everyday life, to provide support for research, development and innovation and to monetise their results. We take care of the Brno branch of the space incubator.
The innovation ecosystem grows with us
In retrospect, that first idea was terribly optimistic and naive. I thought that an awful lot would be accomplished in three years, and about a third of it was accomplished. But even that was good. The important thing was to start somewhere and do it for the long term, to be patient until it yielded results.
David Uhlíř
Regional Innovation Strategy Manager
2002
Thanks to the Regional Innovation Strategy in the Czech Republic, the South Moravian Region has achieved a number of successes. Other regions were quickly inspired by it and today other regions have their own innovation strategy.
Connect modern technology with real-world problem solving. This is one of the most important motivations for many entrepreneurs who want to change the world through their business.
Lucie Kanioková
Open Innovation Manager JIC
2011
We are launching speed dating for technology companies "JIC 120 seconds". We want to encourage the development of new collaborations between technology companies with each other or with research organisations. We have already connected hundreds of companies in this way and started more than a thousand new collaborations.
Our huge advantage is working with small and medium-sized business owners across the Czech Republic on a daily basis. Thanks to this, we know very well the environment, the needs, and the state in which our companies are.
Jindřich Weiss
Ynovate network coordinator
2018
We are creating a professional network of innovation centres that will operate under the Ynovate brand from 2021. By finding synergies, working directly with entrepreneurs and sharing contacts, we jointly support the creation and development of innovative, ambitious and sustainable entrepreneurship in the Czech Republic.
JIC is a synonym for ecosystem, support and sharing of experience. Entrepreneurship can sometimes be challenging and full of challenges, which JIC has helped us overcome. Especially in the early days, it gave us confidence, helped us strengthen our will and gain valuable experience.
Petr Chaloupka
CEO GreyCortex, s.r.o.
2019
In 2019, we created the JIC+ platform for the community of people who own and run businesses. They share their experiences, learn from each other. The community offers a safe space for dialogue and learning.
Velvet Innovation meetups are one of the key tools for building trust between all those involved in the development of the innovation ecosystem. Trust, based on shared values, opens the way to effective joint action.
David Uhlíř
Regional Innovation Strategy Manager
2021
We are starting to organize Velvet Innovation meetups, short informal meetings where participants learn about what's coming up in the #brnoregion innovation ecosystem, share successes of past projects and look for opportunities to collaborate.
New projects for a better region
Innovation is at home in South Moravia. Companies with high added value bring jobs, finance, prestige and stability to the region. We need manufacturing companies to not only keep up, but to be - at best - ahead.
Jan Grolich
Governor of the South Moravian Region
2014
We have opened INTEMAC, where we help manufacturing and technology companies develop a level of digitalization, automation or robotization. We have helped dozens of companies in the region to invent, design or build completely new solutions.
Startups in the early stages of their existence have few opportunities to raise funding for start-ups. For private investors and banks, it is still a big risk and they need at least some assurance that they will get a return on their investment.
Radim Kocourek
Managing Director JIC Ventures
2015
We have launched JIC VENTURES, an investment tool that supports promising companies to grow faster. The goal is not just financial profit. Successful companies also help the development of the whole region.
Brno is one of the pioneers in supporting the creative industries. The recently opened KUMST hub is further proof. Creative vouchers confirm every year that they are an ideal tool for supporting cooperation between creatives and other companies.
Markéta Vaňková
Mayor of the Statutory City of Brno
2016
In cooperation with the City of Brno, we are launching the Creative Vouchers Brno programme. The first ever programme to support the connection between creatives and companies from other fields in the Czech Republic. We are also inspiring other cities and regions.
The main benefit of FabLab is that it allows people to realize their ideas that would otherwise remain only in their heads. With access to quality manufacturing technology, education in digital craftsmanship, and a community of like-minded makers, anyone can turn an idea into a finished project or product.
Tomáš Mejzlík
Managing Director FabLab Brno s.r.o.
2017
We opened the first FabLab in the Czech Republic. A non-stop publicly accessible digital workshop and one of the 1170 fablabs in the world, it offers the opportunity to work with a 3D printer, cutting plotter, laser cutter or CNC milling machine.
I am impressed by the creativity and inspiring environment of KUMST. It is a great example of how to foster creativity and bring innovation closer to citizens.
Mariya Gabriel
Eurocommissioner
2020
We are opening a creative hub KUMST - a background for creatives, which was missing in Brno until now. Its aim is to connect professionals across the creative industries, develop their ability to make a living from their work and support other industries.
The gaming industry has grown despite the pandemic, hiring new people. Supporting Brno game studios means not only supporting the creation of games with fans all over the world, but also supporting highly skilled jobs and even new professions.
Jakub Bedecs
from the GameDev Area initiative
2022
The first game incubator in the Czech Republic is being created in KUMST. It serves gaming startups and studios, offering them industry training events, consulting sessions with experts from various industries, as well as physical space and facilities. Already the first teams of game developers are applying for it.
Why to become a JIC client
We are an innovation agency supporting entrepreneurs and people with a desire to do business. Find out how we can support you!
Do you have a business idea?
We can advise you on starting your business and help you find premises and finance.
Facing a challenge?
Together with top specialists or experienced entrepreneurs, it will go better. We will recommend the ideal consultant to support and guide you.
Looking for partners?
In the JIC community, you'll find business partners and entrepreneurs facing the same challenges as you.
People at JIC
Experts from practice and pioneers of innovation

People at JIC are strongly connected to the South Moravian ecosystem. You will find among them entrepreneurs, experts and specialists as well as important members of national and international networks.
People at JIC are driven by a desire to do something for their city and their region - as well as a unique team spirit and a sense of a job well done.
Michaela Sagitariová
human potential manager jic