JIC INBIT – Biotechnology centre
JIC INBIT is aimed at companies operating in the life sciences. It provides modern serviced offices and laboratory space, fully-equipped with cutting edge equipment. Two thousand square metres of offices and laboratories is fully serviced with all regular amenities, including cleaning, reception, security and I.T.
Kamenice 34, Brno, 625 00 (download a map)

JIC INBIT is at the new Masaryk University campus in Brno-Bohunice; and was opened in October 2008. The cutting edge laboratory complex is right next to the campus and the teaching hospital. This allows companies to develop cooperation and synergies with top academic specialists. In 2013, underground and overground sheltered walkways were completed between all the buildings in the area of the campus.
The building received the prestigious CzechInvest award for "Business property of the year, 2008".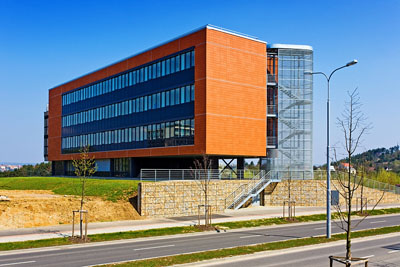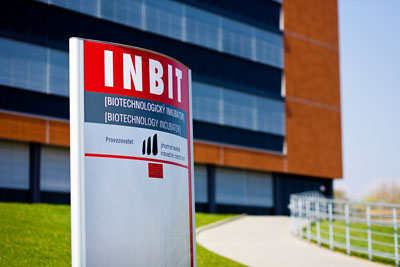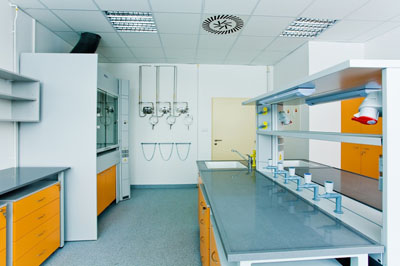 Services available at JIC INBIT:
10 hours of meeting room hire per month free of charge
unlimited access to two separate laboratories with the following equipment: flow box, extractor, UV-VIS spectrometer, Elisa plate reader, water distiller, ice-maker, autoclave, electrophoresis set, Ultrasound disintegrator, centrifuges, HPLC, deep freezer boxes (-80°C), heating blocks and shakers with thermostats.
top-quality consultation from our internal team or from a range of external mentors.
contacts to strategic companies and organisations both at home and abroad
access to finance
How to get into JIC INBIT
Companies may apply to JIC INBIT and have access to JIC INBIT's services if they fulfil the criteria and get through the selection process. This will also give access to other JIC services.
At JIC INBIT, we strive to gather together start-ups, research and development laboratories and established companies in order to create a life sciences cluster. JIC aims to bring into the JIC INBIT biotechnology centre quality innovative companies, who create job opportunities for graduates or in some way contribute to the creative environment of the centre. This is no ordinary commercial space. JIC provides opportunities for networking and training events and generally strives to support cooperation.
For more information please contact Zdenek Rucka at rucka@jic.cz.
Masaryk University is a guarantor of the selection of companies for INBIT. South Moravian region is an investor and it is run by the South Moravian Innovation Centre (JIC)